Hello iOS Clashers,

Sorry for the long break from player interviews, there has been a lot on my plate lately.  Next up in interview the player series is a player just crushing it without dropping cash on the game.  F2P clasher Seemos from Silent Knights is here to tell us about himself, game play and the challenges he faces.

Q: Seemos tell us a little about yourself.  What other games do you play? What drew you into Castle Clash.

I'm just a normal 25 year old from Austin Texas. I've been a very competitive person all my life. I love to play sports and equally as much to play video games. I spend more time playing video games just because sports requires more people and generally a coordination of time, where as I can always just hop on Xbox or my PC and play whatever


As for what other games I play. I am an extremely good GUitar Hero player. I've played and own all of them including the rare Guitar hero Van Halen. On PX however I love to play Lol (league of legends) I'm platinum ranked in solo queue which is not half bad.


That's when I stumbled upon CC in the App Store, and decided to give it a go. A combination of the time and place in my life at the time tin August of 2013 when I started playing, allowed me to put lots of effort into the game, and that is something that I still continue to this day.


Q: Word has it that your are a bit of legend when it comes to F2P.  Tell us some of the achievements and highlights you have hit thus far?

So over the past two years I have never once spent any money on this game. I did initially do tap joy for about a month, but it was so annoying and hard that I just stopped. Plus in the beginning it was the only way to get free Gems other than the 5 gems for logging on the 5 for 10 arena fights and the 10 for each of looting gold and mana.




But now there are so many free gems given out, from quest board daily reward might reward etc, that I don't need to tapjoy for gems anymore.  So as an F2P of a little over 2 years now, I've managed some pretty good things in my opinion. I currently keep myself in the 900 range of arena. But my highest rank has been in the 500's.





I farm HBM R. Have not beat S yet, however I have made it to but not yet beaten S4. 




I get about 900 rank in Lost Battlefield every week.





I have 602 flames from dungeons and currently sweep expert 7-10. I haven't been able to beat 8-10 yet to unlock insane dungeons.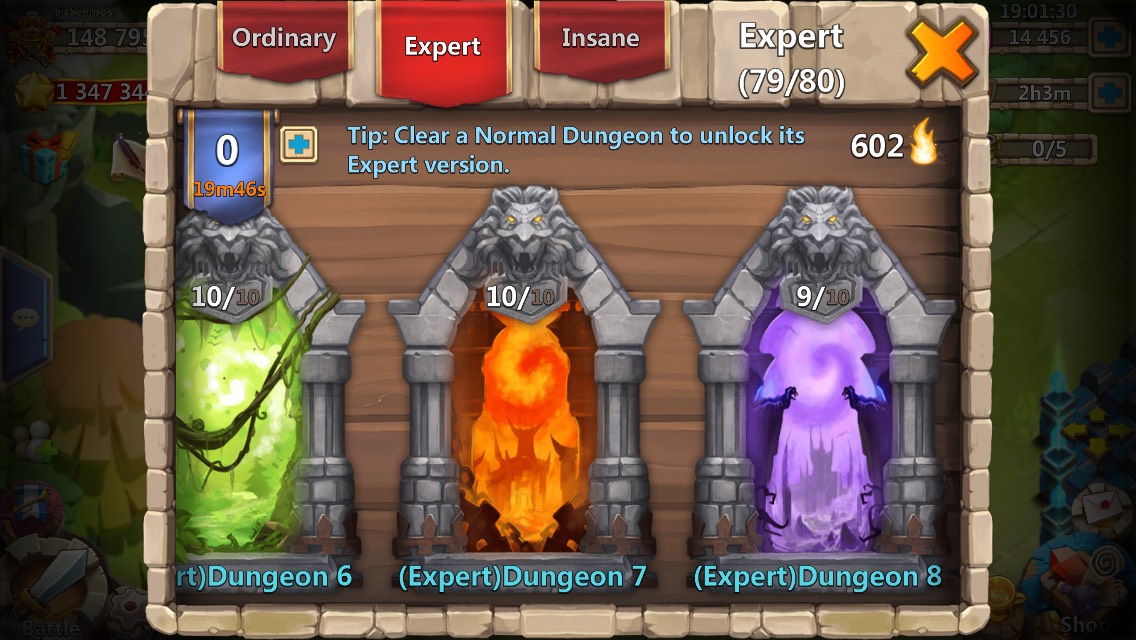 I farm HT 12 and have beat lvl 16




I'm currently top 500 for Heroes expedition.





And as you can see, My might is about 148.8k.  I'm currently just inside to 300, but my highest ranking is 214.





I have been a member of the Silent_Knights since May of 2014. So about 1.5 years. When I joined the guild we were just outside top 100 in might, and most of us had just cracked 20k might.





Q: Tell us about your account set up. I was shocked when I found you didn't have PD.

So yes I have NO PD!  Here is my alter.




So basically I'm feel I'm living proof PD is not really needed to progress through this game. It is a heck of a lot harder with him, but based on what I stated in accomplishments above you can see a lot can be done without him. 

Q: What are the areas you struggle with not having PD?

There are three modes however where I still get the benefit of PD. They are:

Lost realm Demons. Where my guild mates always have a PD for me to use.

Storm Mesa where only 2 pds are needed to farm SM4, although with two the time is really close to running out especially if the DPS is not high enough.

WG I get the benefit of PD from wretched gore. Where my guild farms wg3.

Now because I have no PD garrisons are a must for HBM and HT. Which is why my elites all give 4/7 in towers and my ordinaries give 5/7 in towers. Also magic towers are a must; I used to use Arrows, but I was farming N, switching so Magic allowed me to instantly beat o, p, and q. And I begin farming P


Thanks to maxed out spells. I am daily able to do raids on anyone, which is why I don't bother with having a base set up for anti raiding. The majority of people take my loot and bail because otherwise there's die thanks to the near permastun of my magic towers. 




About a year ago, I was honestly really close to quitting. The only non shard hero I had was Cupid. I was barely farming HBM H, and I couldn't keep up with my guild in might. Two things changed:

The first is I stopped spending every 150 gems I got on a roll.  After over a year of playing and rolling every 150 gems instantly all o had to show for it was Cupid, and the shard heroes were just not capable enough to hang with the best of the best. So with some input from the Silent_Knights, I decided I'd save up 15k gems then roll for heroes.

The first time I did it which was around Christmas of 2014, I rolled both Aries and DK.  Since then I've gotten Orc and SZ, then Santa and, and last time I rolled 15k I got Vlad and Warlock.  It always takes about 2.5 months to save 15k, and aging they're all free gems.

The second thing that kept me from quitting was the roll out of inscriptions and lost realm. I have 69 heroes all at 80+ inscription and the might from that I caught back up in might and also it allowed me to start farming r and just hang in general with the best of the best.

Most importantly though. AA and the majority of my guild are just awesome dudes that are always active here in chat and in game, and keep the game fun for me and them as well.

Seemos, thank you so much for the interview.  You are inspiration for many players.  Its good to get your story out there so others can find joy in their clashing.
Signature